Venue Information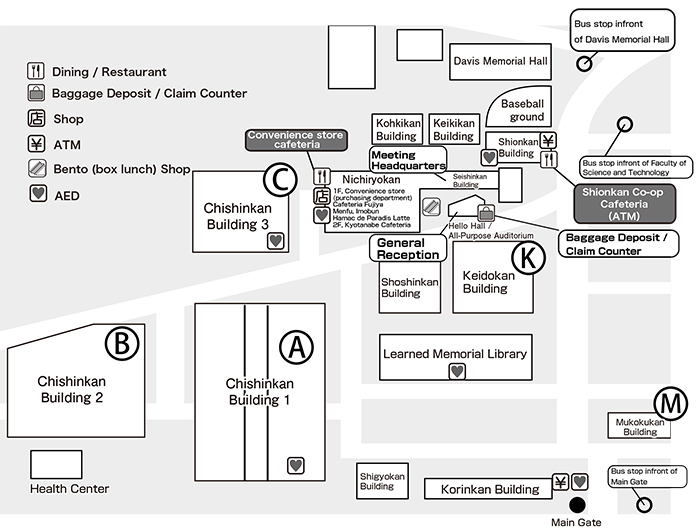 [General Reception]
The General Reception will be set up at the Hello Hall / All Purpose Auditorium.
[Meeting Headquarters]
TThe headquarters will be set up at the 201 conference room on the 2nd floor of the "Seishinkan".
For any troubles occurred in the venue, please call directly to the headquarters.
Phone number: 090-4059-0688 080-1269-3814
[Injury and illness Occurrence]
Please be sure to inform the meeting headquarters. (We will serve you at the General Reception and we are also accepting calls.)
For nearby medical institutions, please see "Access" of the meeting executive committee homepage.

[Smoking Area]
The campus is entirely non-smoking and there are no smoking areas. We appreciate for your cooperation.
[Cafeteria/Shop]
Cafeteria and shops open during the event meeting at the campus are as follows.
| | | | | | |
| --- | --- | --- | --- | --- | --- |
| Shop/Store Name (Location) | Seats | Sept. 9 (Sun.) | Sept. 10 (Mon.) | Sept. 11 (Tue.) | Sept. 12 (Wed.) |
| Kyotanabe Cafeteria | 523 | ◯ | ◯ | ◯ | × |
| Shionkan Co-op Cafeteria | 850 | × | ◯ | ◯ | ◯ |
| Davis Cafe | 134 | ◯ | ◯ | ◯ | ◯ |
| Cafeteria Fujiya | 548 | ◯ | × | × | × |
| Menfu | 22 | × | ◯ | ◯ | ◯ |
| Imobun | 32 | × | ◯ | ◯ | ◯ |
| Hamac de Paradis Latte | 150 | ◯ | ◯ | ◯ | ◯ |
| Co-op Purchasing Department | | ◯ | ◯ | ◯ | ◯ |

* Bento (box lunch) will be sold by the Co-op infront of the Nichiryokan plaza. In addition, sales will be terminated even during business hours after all items were sold out.
* Since it is college summer holidays, the opening hours of each stores/shops are basically from 11:00 - 14:00.
[Baggage Deposit/Claim Counter]
Baggage Deposit Counter will be provided during the meeting period. Please keep baggage properly packed with a carry bag or suitcase.
Baggage Deposit Counter: Hello Hall (adjoining general reception desk) Baggage deposit/keeping date: 4 days from the first day to the last day (from the opening of the general reception until the end of the last day session)
 1st day 8:30-20:00
 2nd day 8:30-20:00
 3rd day 8:30-20:00
 Last day 8:30-16:00
Fee: 300 yen per one luggage
Note: Valuables cannot be deposited.
[Internet Connection]
We will distribute leaflets describing the information necessary for Internet connection by Wi-Fi at the general reception. It is available at the designated place in the meeting venue.
[Postal Mail / Courier Service]
Courier service is located at the Co-op.
[ATM]
Inside the university campus next to the main gate, there is an ATM of Yucho Bank, Kyoto Bank, Nanto Bank, and ATM of Kyoto Shinkin Bank in Shionkan cafeteria. ATM is open on weekdays 8:45 - 18:00,Closed on Sundays.
[Photocopy Service]
There is a photocopying machine which can be used with cash on the first floor of the Nichiryokan building.
[Public Telephone]
There are no public phones inside the campus. Please contact the meeting headquarters in case of emergency.
[Parking Area]
Coming by car are not allowed. There are also no parking spaces around the university. Those who wish to park for handicapped people, please contact the Headquarters in advance.
[Wheelchair]
Wheelchair access is available at the lecture hall.
If you need assistance, please contact the Headquarters at (090-4059-0688 080-1269-3814).
Please also refer to barrier free map (https://challenged.doshisha.ac.jp/uni/barrier.html).
[Nursery Room]
A temporary nursery room will be open during the meeting period. Please visit the website if you wish to use the nursery services.
[Corporate Exhibition]
During the meeting, exhibitions by companies and other organizations will be held at poster venues.
[Others]
The use of classrooms other than the venue, use of venues off hours other than informal meeting, in the venue and inside the university campus, usage which is not permitted is prohibited. Also, please refrain from meetings with food and drinks at university campus. However, you can obtain permission in advance for informal meeting lunches.
[Science Civic Lecture Meeting]
Civic Scientific Lecture will be held on Sunday, September 9th at Meitokukan M21 lecture room, Doshisha University Imadegawa Campus, from 13:00. It is a lecture for junior high and high school students and general citizens including their faculty members, but we also welcome members' participation.
[Luncheon Seminar]
Luncheon seminar will be held by companies and organizations during lunchtime at around 12:30-13:30 during the event meeting. For luncheon seminar participants, lunch will be distributed free of charge on the day at the venue. For details of the seminar and application method, please visit the event meeting website.